The podcast where we look at the world of film from a variety of different angles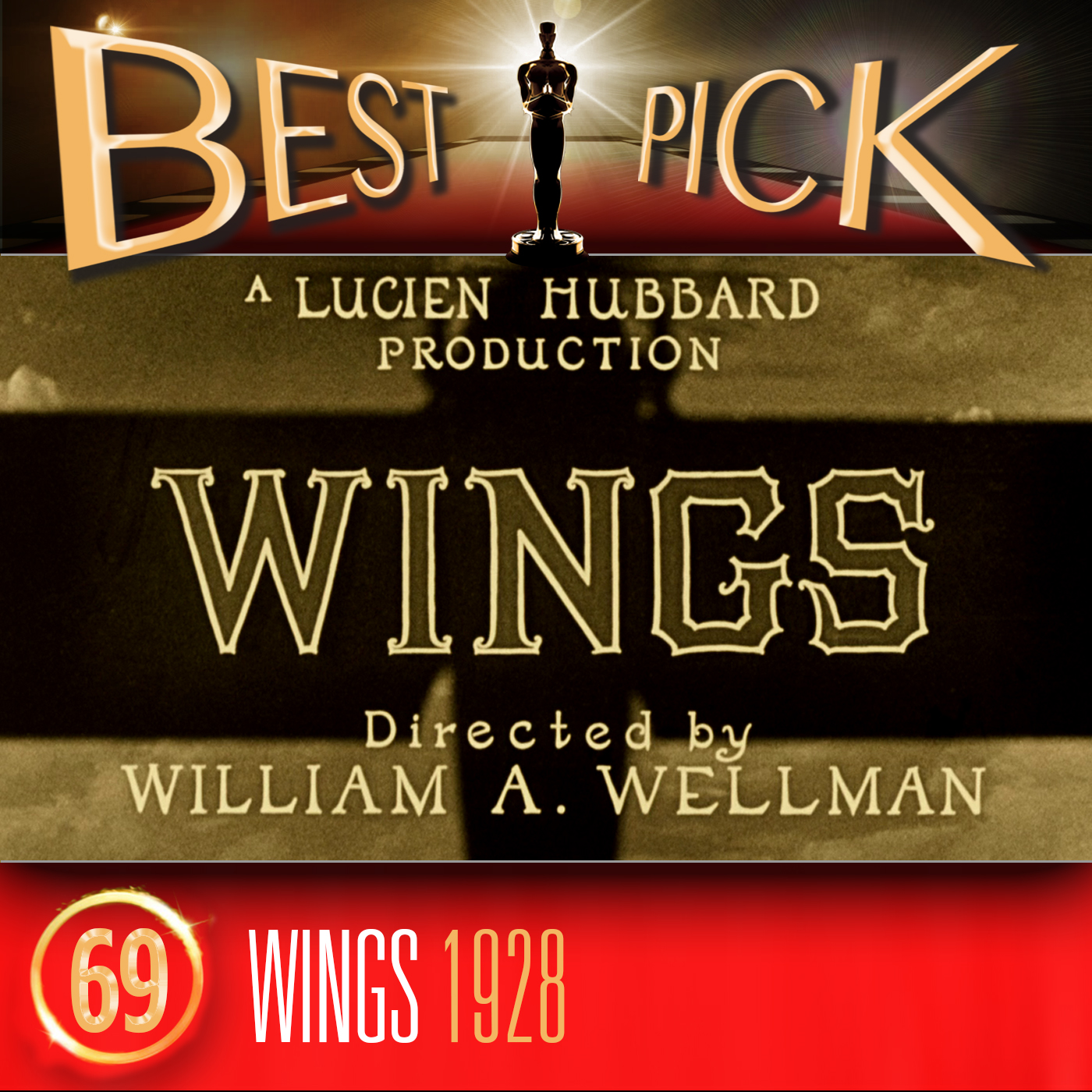 BP069 Wings (1928)
Best Pick with John Dorney, Jessica Regan and Tom Salinsky
Episode 69: Wings (1928)
Released 9 September 2020
For this episode, we watched Wings, written by John Monk Saunders, Hope Loring, Louis D Lighton, Julian Johnson; directed by William A Wellman and starring Clara Bow, Charles "Buddy" Rogers, Richard Arlen, Gary Cooper. As well as Best Picture, Wings also won for its Engineering Effects.
Next time we will be discussing The Lord of the Rings: The Return of the King. If you want to watch it before listening to the next episode you can buy the DVD or Blu-Ray on Amazon.co.uk, or Amazon.com, or you can download it via iTunes (UK) or iTunes (USA).
To send in your questions, comments, thoughts and ideas, you can join our Facebook group, Tweet us on @bestpickpod or email us on bestpickpod@gmail.com. You can also Tweet us individually, @MrJohnDorney, @ItsJessRegan or @TomSalinsky.
You should also visit our website at https://bestpickpod.com and sign up to our mailing list to get notified as soon as a new episode is released. Just follow this link: http://eepurl.com/dbHO3n.
If you enjoy this podcast and you'd like to help us to continue to make it, you can now support us on Patreon for as little as £2.50 per month. Thanks go to all of the following lovely people who have already done that.
James Murray, Jonquil Coy, Anna Elizabeth Rawles, Nick Hetherington, Michael Walker, Ms Rebecca K O'Dwyer, Ann Blake, Veryan Croggon, Tim Gowen, Richard Ewart, Kirsten Marie Oeveraas, Helle Rasmussen, Robert Orzalli, Olivia, Peter , Katy Espie, Joy Wilkinson, Kate Butler, Anna Joerschke, Ben Squires, Dave Kloc, Claire Creighton, Sally Grant, Sam Elliott, Michael Thomas, Della, Matheus Mocelin Carvalho, Annmarie Gray, Kelli Prime, Alex Frith, Lisa Gillespie, Alex Wilson, Anne Dellamaria, Michael Wilson, Simon James, Eloise Lowe, Rohan Newton, Jess McGinn, Elis Bebb, Judi Cox, Julie Dirksen, Anna Smith, Darren Williams, Catherine Murphy, Sian Thomas, Lucinda Baron von Parker, David Hanneford, Emmet Jackson, Emma Colvill, Eamonn Clarke, Anna Jackson, Martin Korshøj Petersen, Elspeth Reay, Daina Aspin, Laura Lundy, Stuart Shepherd, Juan Ageitos, Sladjana Ivanis, Helen Cousins, Simon Ash, Kath , Johanna Commins, Flora, Drew Milloy, Jo B, Claire Carr, Anna Barker, Catherine Jewkes, Charlotte, Ruth, Henry Bushell, Zarah Daniel, Rachel Foster, nötnflötn, Elizabeth McCollum , Andrew Straw, Robert Kidwell, Blanaid O'Regan, Anna Coombs, Jane Coulson , Esther de Lange, Tom Stockton, Elizabeth Lodi, Ian C Lau.